Microtonal Subtractive Synth: KSSL #9
Semi-finalist at the Guthman Musical Instrument Competition
In this post we present a synth designed by Russian musician and sound designer Ksenia Vasileva. KSSL #9 is a microtonal subtractive synth which sounds great and was created using a Bela Mini and Pure Data. What's more, this synth is a semi-finalist at the Guthman Musical Instrument Competition.
KSSL #9 microtonal synthesizer
This little subtractive synth is a test bed for performing microtonal music and is tuned to a 9 tone per octave scale. It is built using a Bela Mini which runs a Pure Data patch for the synthesis.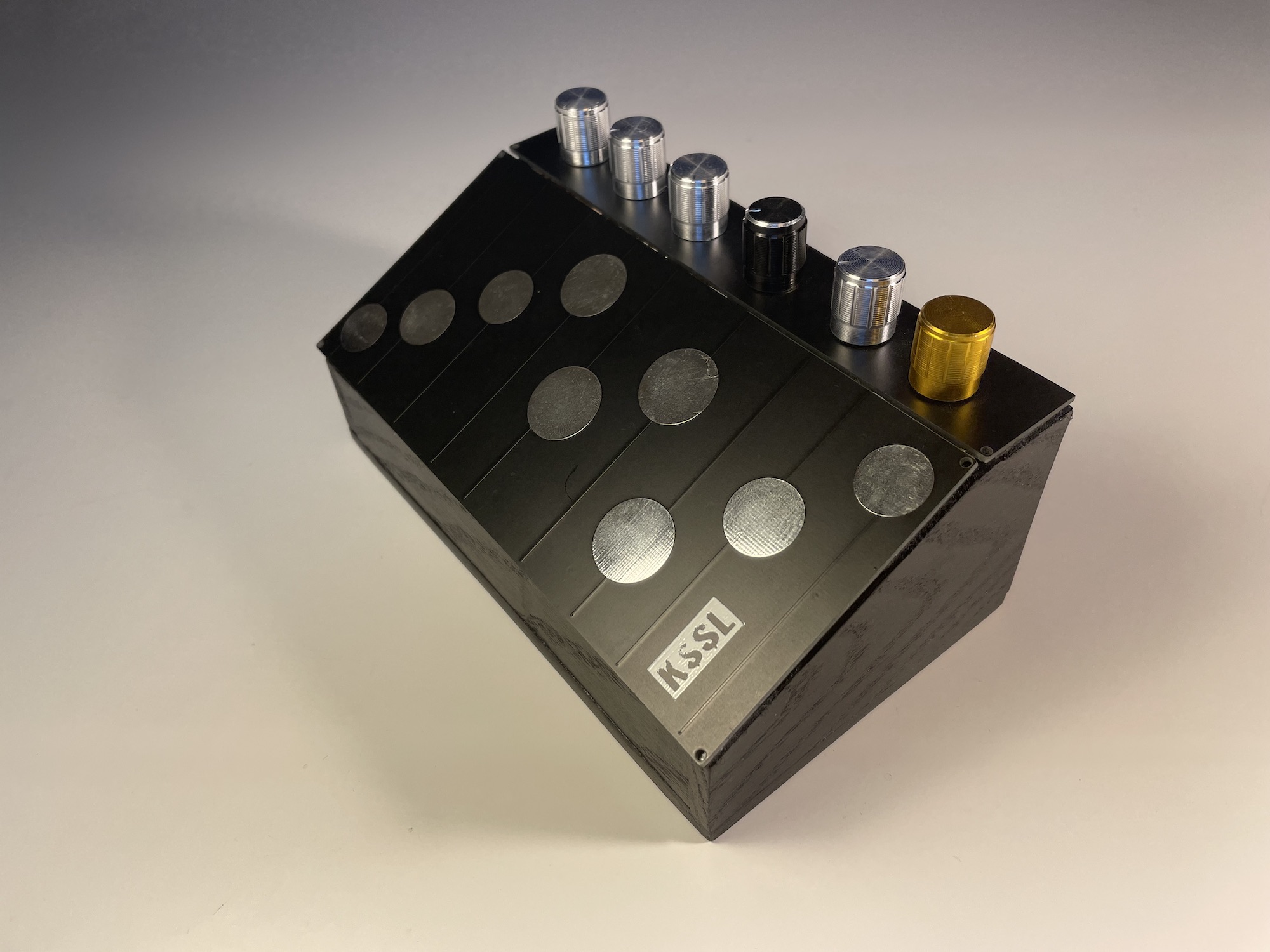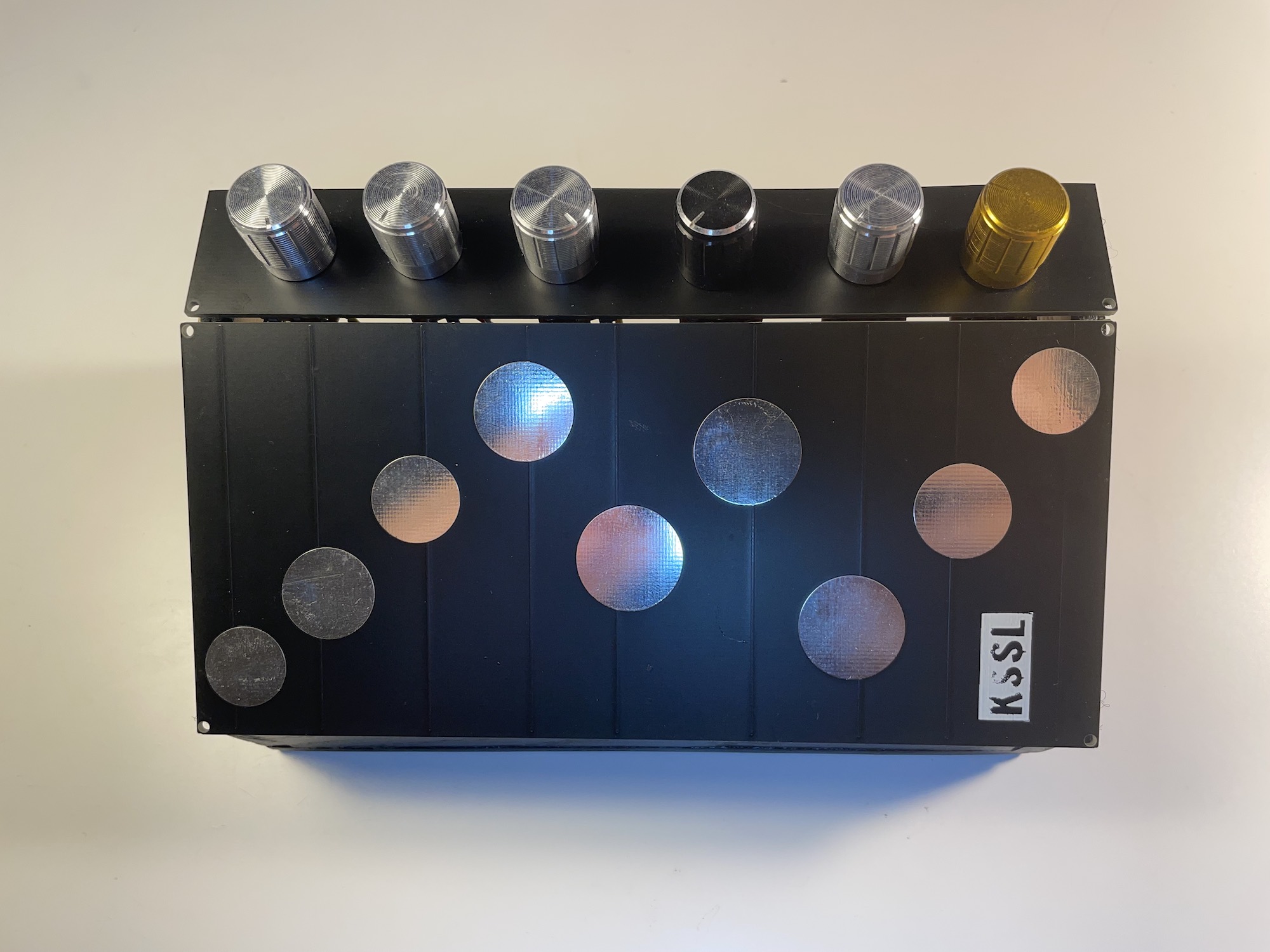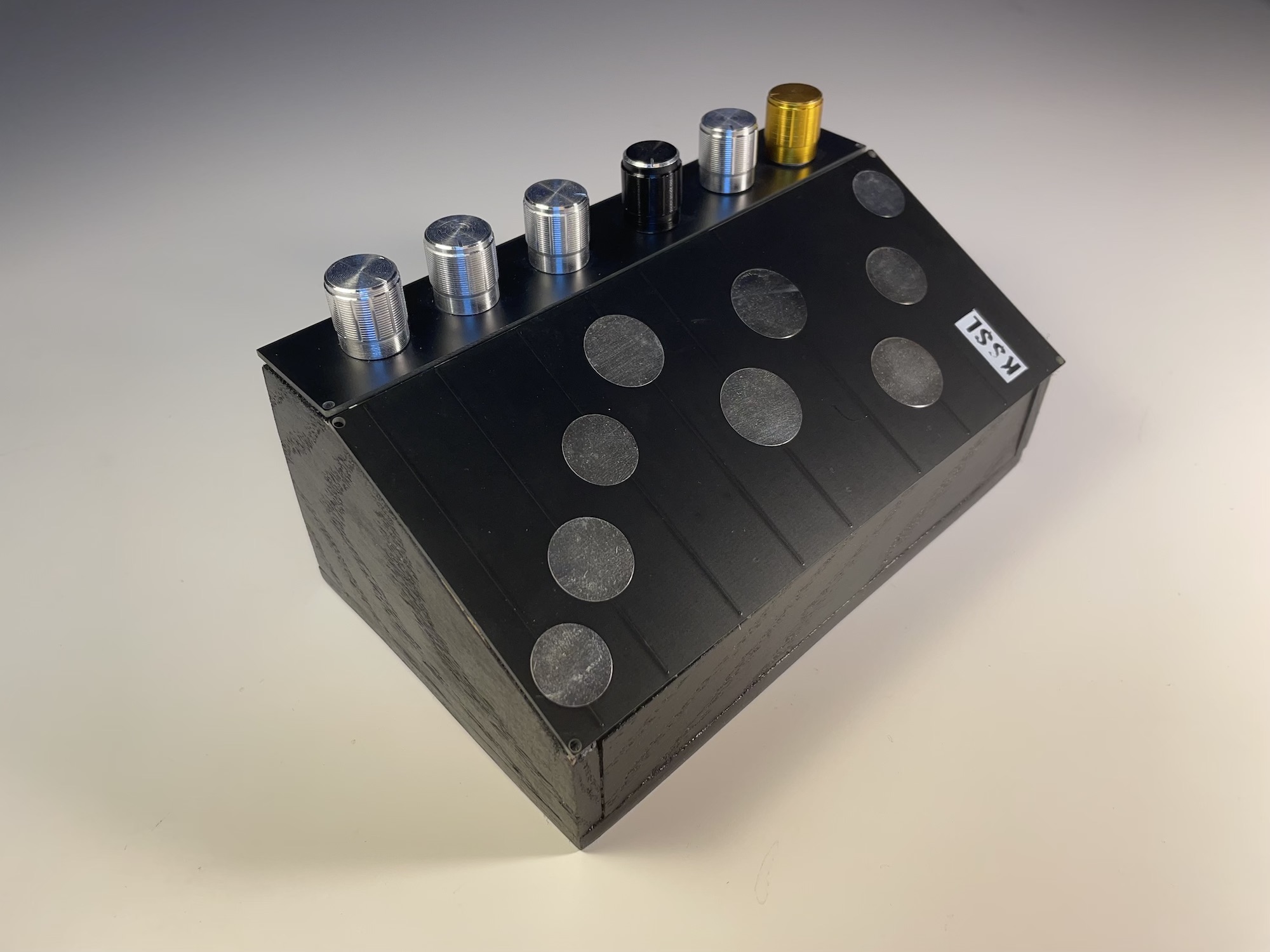 The idea is that this is the first in a series of microtonal instruments which each explore different subdivisions of the octave and make it easy to perform with these scales. The base synthesis technique is subtractive synthesis: there are various oscillators and modulators which are then passed through filtering which shapes the sound. The synthesis is controlled from the dials on the top of the instrument as can be seen in the video.
Building the synth
The enclosure of the instrument is made from oak board. An Adafruit capacitive touch sensor breakout is used for reading touches on the metal touch points on the instruments front panel. Each of the touch points represents one of the nine tones of scale and are wired to the touch sensor breakout.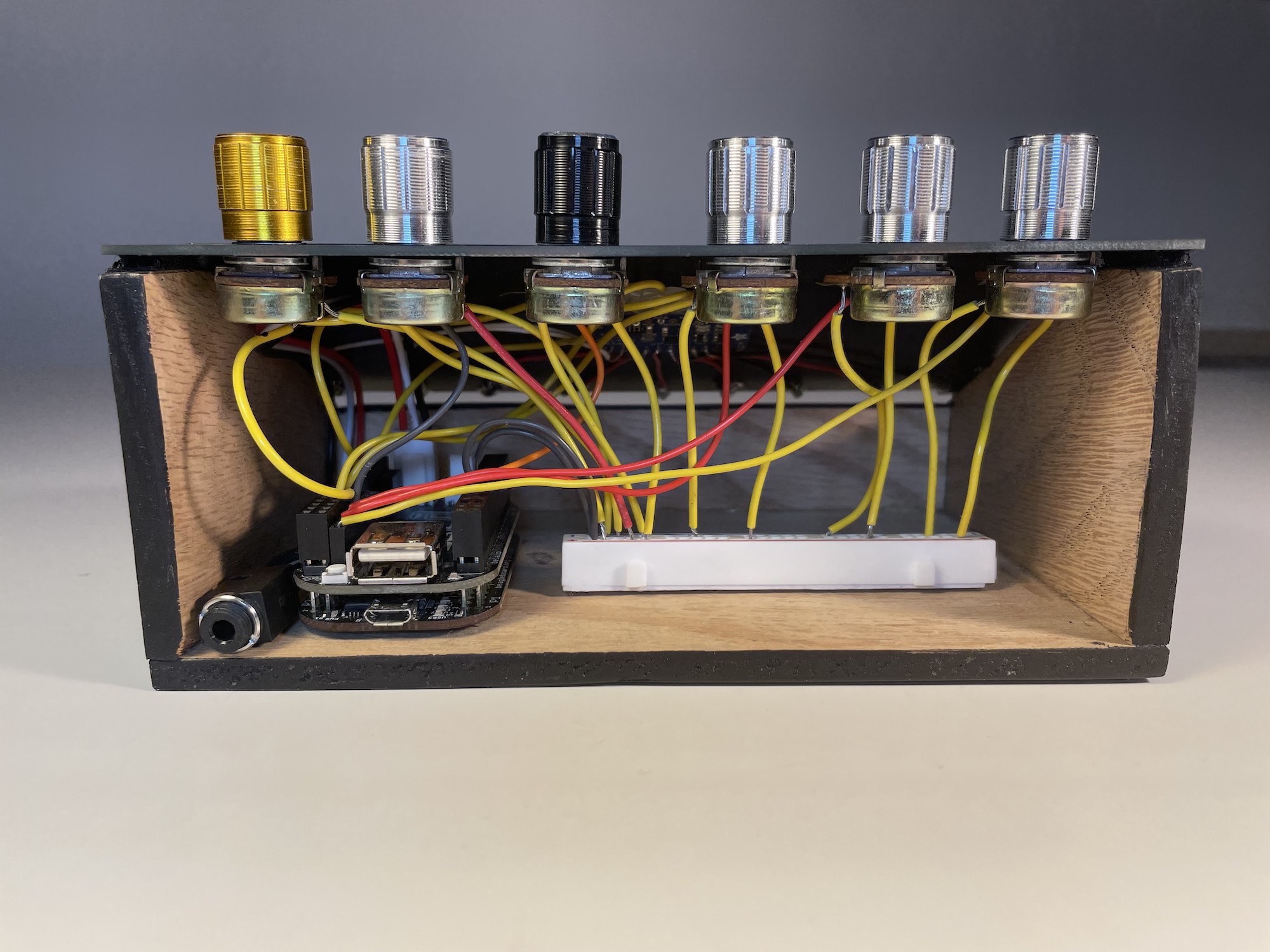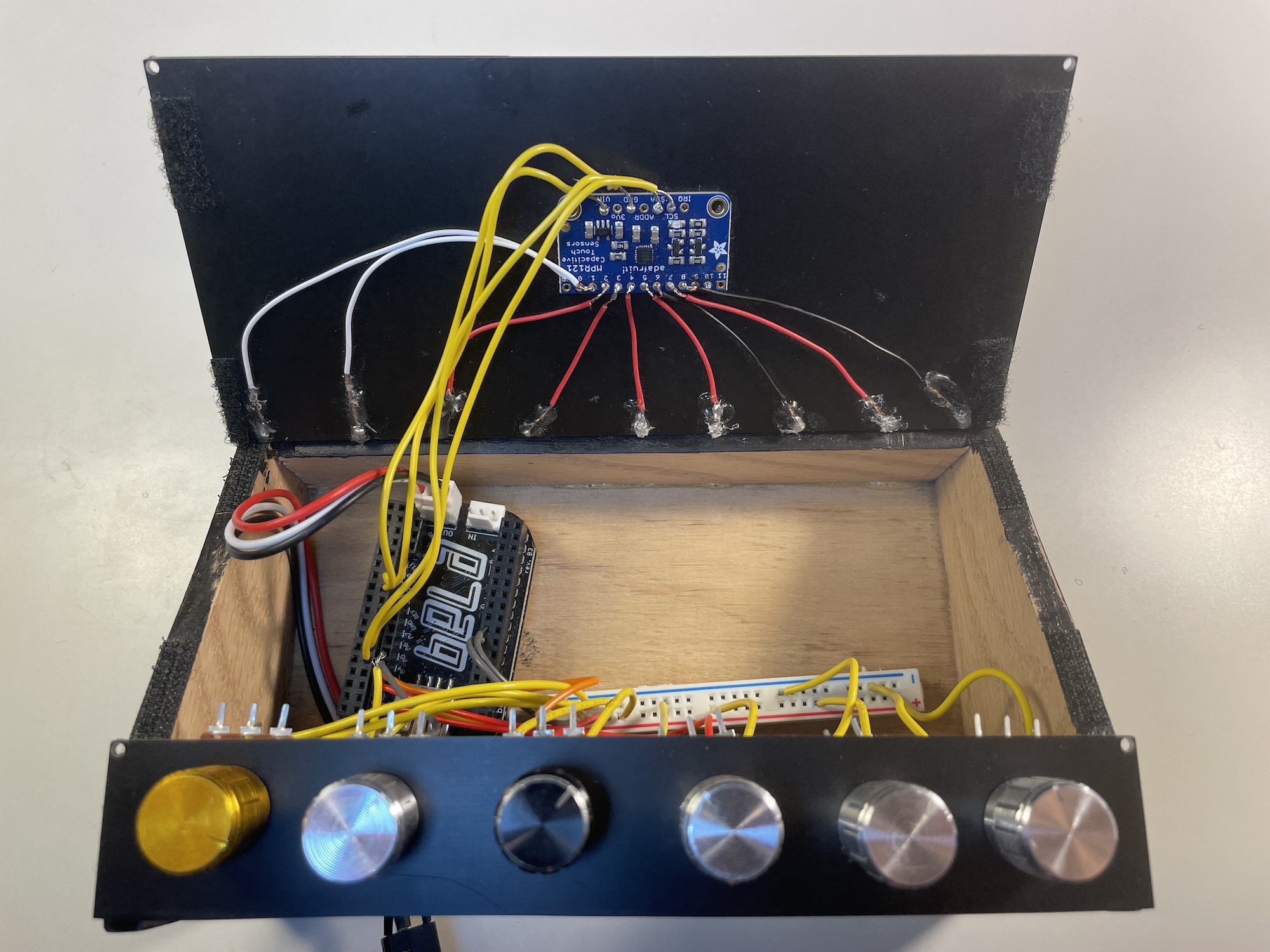 The touch panel is attached to the enclosure with velcro which makes it easy to disassemble the synth if needed, yet keeps it stable and fully playable. Ksenia would like to thank Dr. Richard Boulanger for guiding her through the process and Loudon Stearns for inspiration and creative exchange.
About Ksenia Vasileva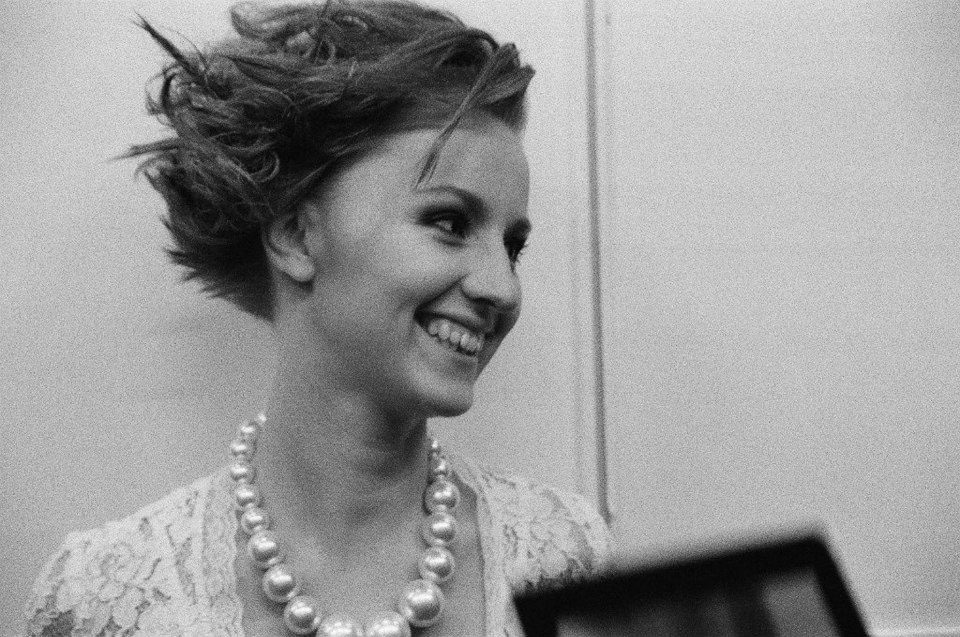 Ksenia Vasileva was born in Saint Petersburg, Russia. As a professional bass player she has toured Europe and Russia over the last 10 years. At the same time she received a degree in Public Relations. At some point she decided to change her life and went to study at Berklee. She graduated in Summer 2021 with a double major degree in Electronic Production, Design and Performance. Ksenia currently work as a sounds designer at Audio UX in NYC and has a deep passion for microtonal music, sound design, technology and science.
Guthman Musical Instrument Competition
The Guthman Musical Instrument Competition is one of the only competitions of its kind: an event dedicated to identifying the newest and greatest ideas in music. Every year they invite musical inventors from around the world to share their creations and ideas about the future of music. Below is a video of last year's winner Ùfur Hansson with the Segulharpa.
For the 2022 competition, finalists will travel to the Georgia Tech campus March 10-12 to meet with judges, perform in concert, and compete for $10,000 in prizes. Judges this year include Gerhard Behles (CEO of Ableton), Paola Antonelli (senior curator at MoMA), and Rick Beato (YouTube personality, music professional, and educator).
Other Semifinalists using Bela
Alongside this synth from Ksenia these are two other entries which use Bela in their construction and which have been featured on this blog in the past.
Chowndolo by Giacomo Lepri and Alessia Milo
The Chowndolo is an instrument based on a magnetic pendulum whose trajectories are altered by magnets placed underneath the device. This creates unstable patterns of oscillation which are translated into synthesis parameters and sound. The magnets below the pendulum can be arranged to compose new shapes: different configurations will modify the pendulum oscillations and the generated sonorities. The unstable patterns produced by the pendulum oscillations are transformed into sound, articulating a music that evolves based on the pendulum's dance.
Rebus by Eleonora Oreggia and Clive Parini
Rebus is an in-air instrument which uses a sensitive electromagnetic emitter and receiver to capture detailed movements of the hands. Rebus recalls the spirit of the 100-year old Theremin, but it uses a different sensing technique: one antenna transmits an electromagnetic signal generated by a synthesiser, the other detects it.
Check out all the semi-finalists here and don't forget to vote for the instruments you want to see in the final!