Tom Kessler's guitar machine
This idiosyncratic pedal packs in a drum machine, FM synth, and loads of effects
Tom Kessler is a Berlin-based, Mexican-born, guitarist whose improvisational performances blend jazz, free improvisation and live electronics. In this post we take a look at a wonderful custom guitar pedal he designed, which features an inventive drum machine, fm synth and various delay-based effects.
Designing for improvisation
Tom created this effects pedal as a flexible and intuitive accompaniment partner plus digital effects box which he could integrate into his improvisatory guitar performance. With a simple set of hardware controls housed in a trusty wooden box he has been able to make an incredibly versatile rhythmic partner.
The pedal itself
The main controls of the pedal consist of 4 arcade buttons, 4 toggle switches and 4 potentiometers and a Trill Bar.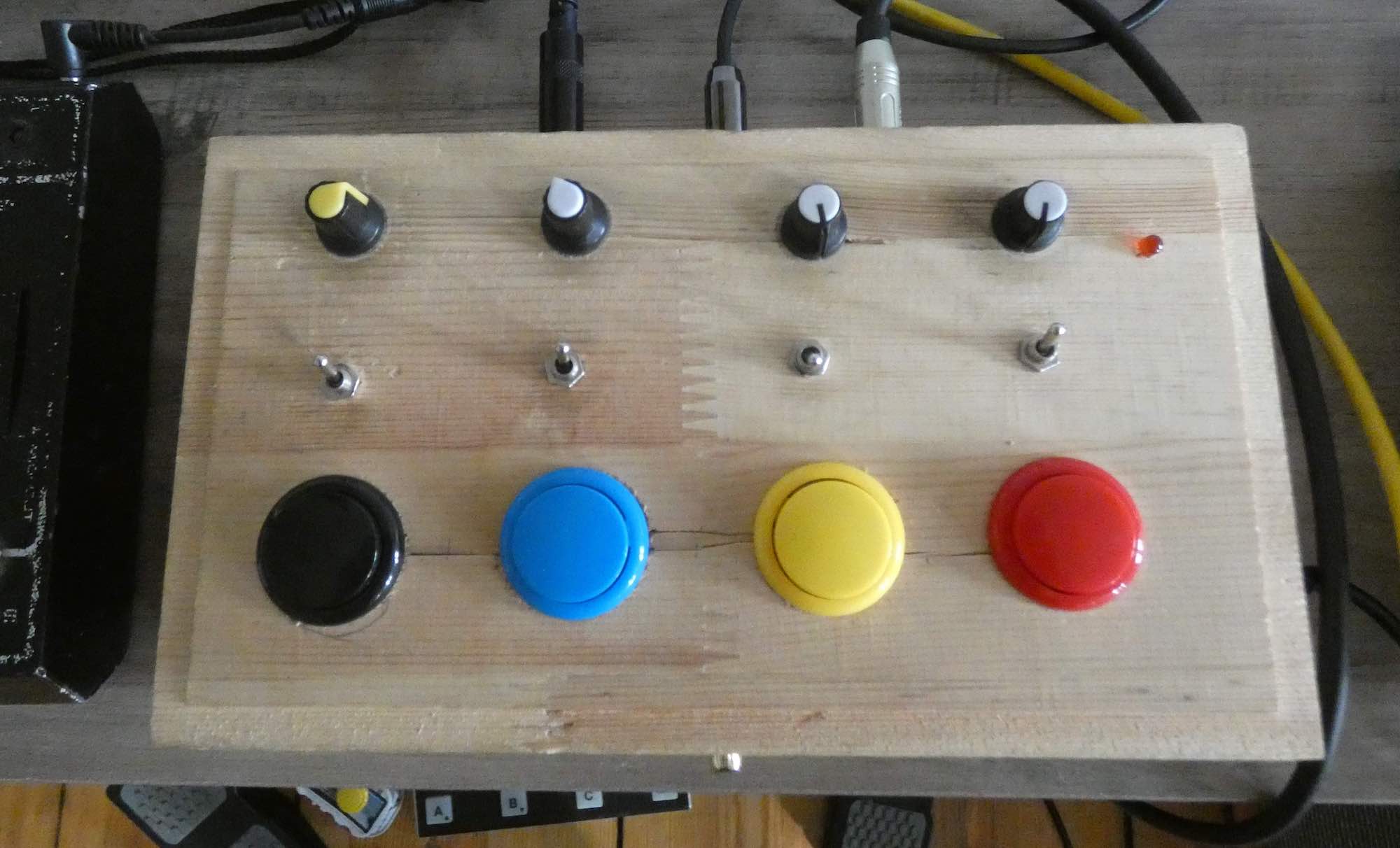 The brain of the whole pedal is a Bela Mini running a Pure Data patch for the audio processing. The buttons and switches are hooked up to the digital inputs, the potentiometers to the analog inputs.
These controls are extended by a series of foot switches and pedals: an additional arcade button mounted in a sardine tin which acts as a stomp box; an expression pedal for continuous control; a 4 button Bluetooth foot controller. These all connect to the pedal via Bluetooth with the use of a dongle.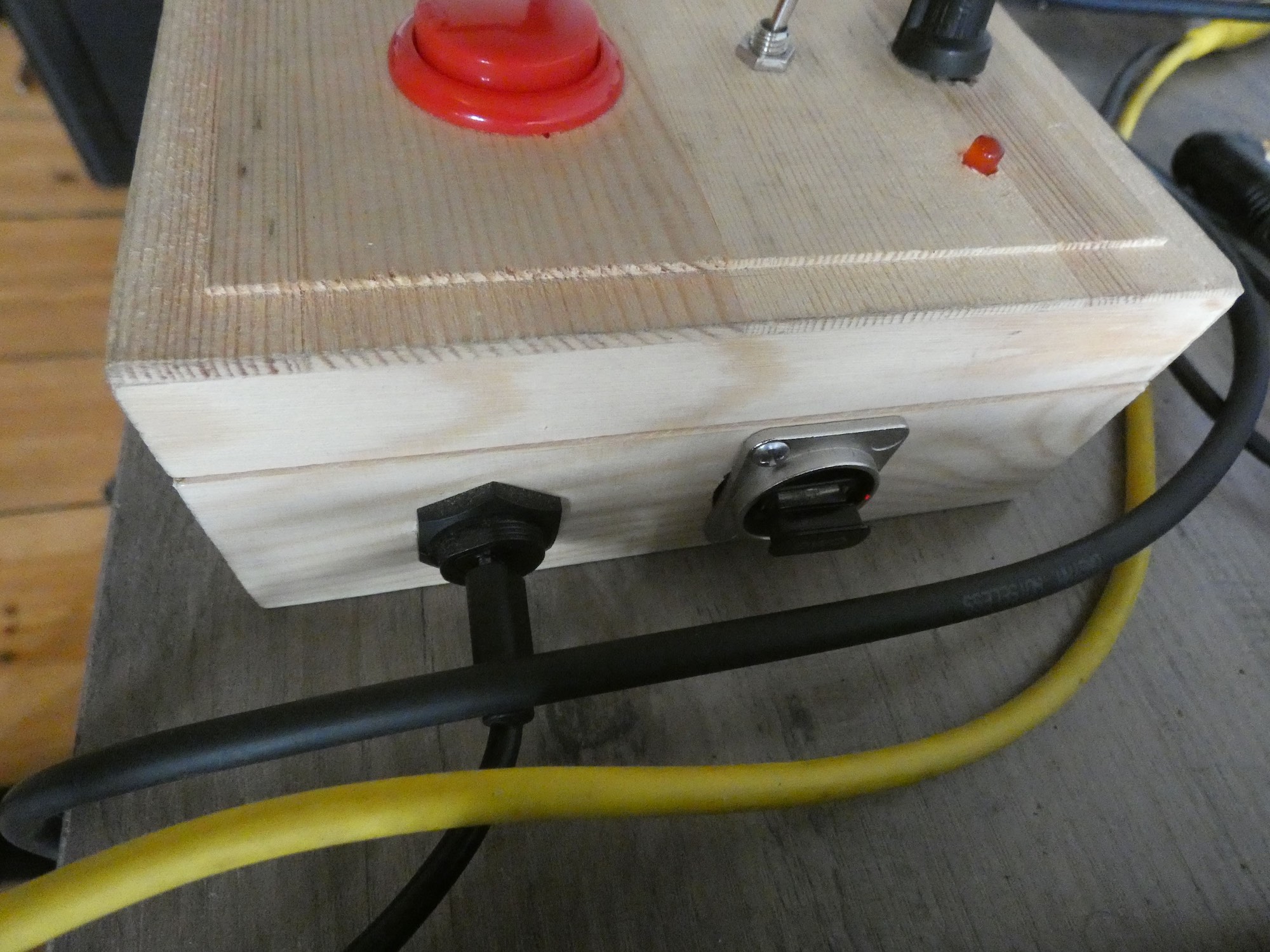 The guitar can be plugged in directly to the input, although most of the time Tom passes his guitar through another pedal to bring the signal to the optimum amplitude level for Bela (line level). The output is stereo allowing Tom to split apart the drum machine and effected guitar to be used in separate amplifiers or to send one to a guitar amp and the other to a P.A. for example.
What the machine does
In the below video Tom talks us through the full functionality of his music machine.
Drum machine
There are a series of samples banks which make up the core of the drum machine. Sample playback can be triggered by the buttons which are also used for other functions depending on the mode you are in. There are two main modes for the drum machine, manual and automatic. When in manual mode you can play rhythms via the 4 buttons which can then be looped and changed in speed and pitch. In automatic mode the pedal plays back pre-sequenced patterns.
Navigating the sample bank
Using an expression pedal Tom can select between different samples in the bank and control how much variation there is in the sample playback. When the expression pedal is fully closed the sounds remain close to traditional drums but as the pedal is opened all kinds of strange and wonderful samples are triggered, but always within a similar frequency range to the base sample. The bass drum on the other hand is synthesised to give an full a sound as possible.
Sequencing in time
By pushing an extra foot switch Tom is able to put the drum machine into automatic mode which will start playing back preprogrammed drum patterns. He can then cycle between a series of different patterns by clicking one of the buttons. One of our favourite features of this pedal is a potentiometer which changes the time signature of the whole sequence making for some incredibly idiosyncratic patterns which none-the-less emerge in a very natural way from the previous pattern. This makes the pedal a particularly rich partner to improvise with and definitely compliments Tom's accomplished free jazz style of playing.
FM Synth Voice
On the remaining column consisting of a button, switch and potentiometer there is an FM synthesiser with randomised parameters which is sequencer in time in relation to the global beat. Here's another video of the pedal in action which showcases the delay-based effects at their best.
Delay-based guitar effects
In addition to the drum machine and synth this pedal is also packed full of effects. There is a repeater, which takes the current note played and repeats it a number of times and with a timing with is dictated by the global tempo. Every time the button is pressed a new division of the tempo is used for the delay time. Add to that an interpretation of the Canadian effects pedal Count to 5, and a complex looper.
Trill Bar
The Trill Bar touch sensor mounted on the side of the pedal is used to scub through patterns with one finger as a dynamic form of control. When used with two fingers it is possible to control a naked oscillator for low pitched drones.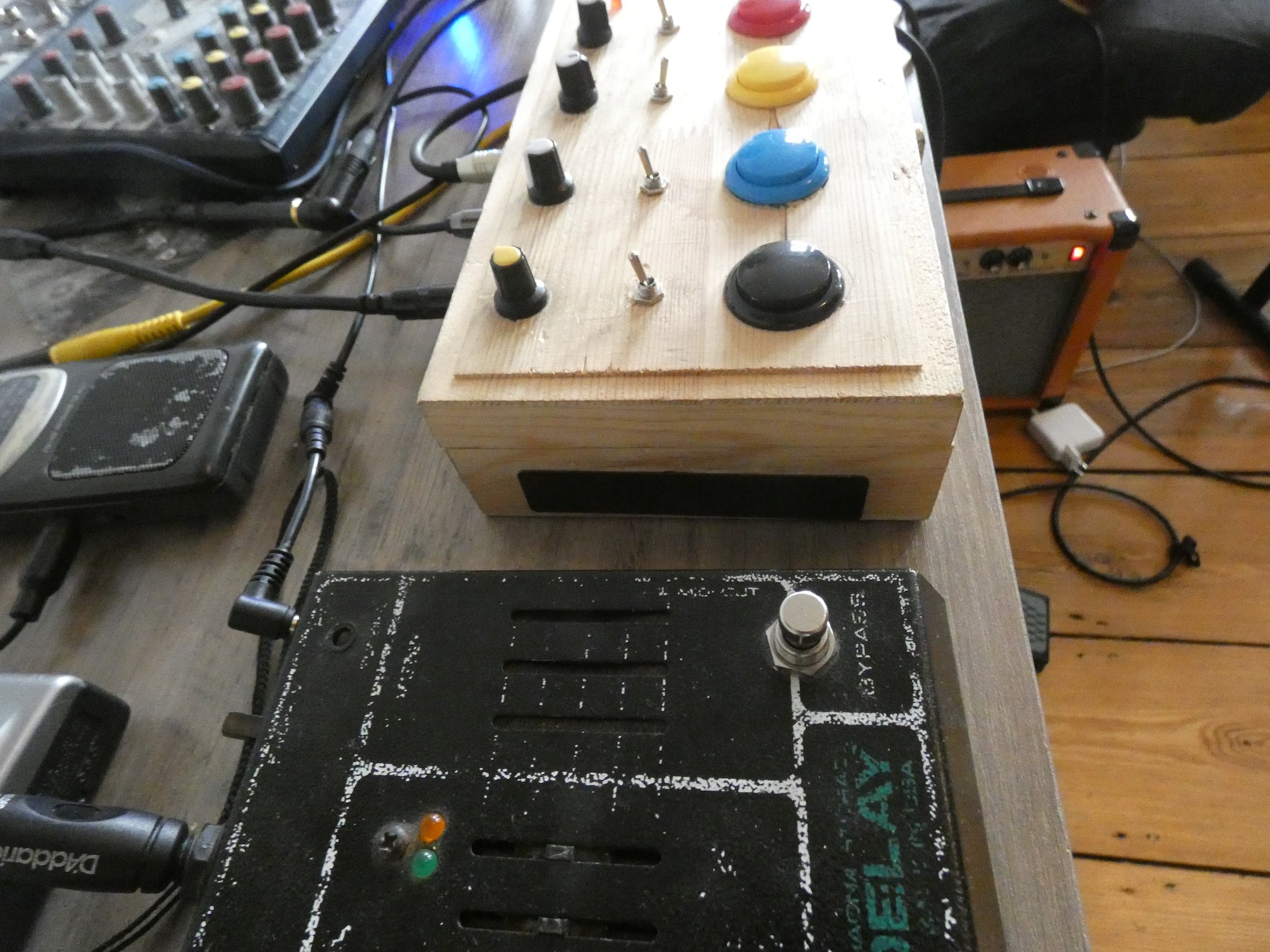 About Tom Kessler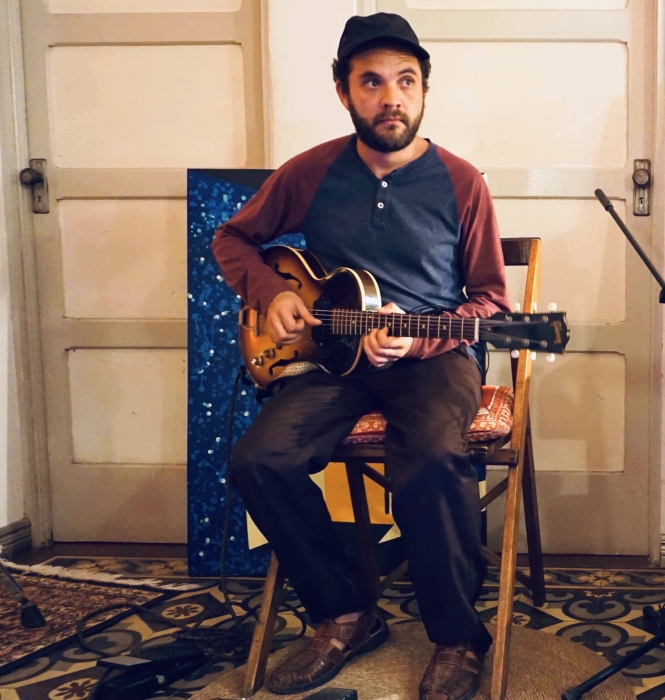 Tom began to play music at an early age in his hometown of Guadalajara, Mexico. His music overlaps various genres such as jazz, free improvisation, and electronic music. Since 2010 he's been involved in the jazz and improvisation scene of Mexico performing in various festivals and venues with Gustavo Nandayapa, Brian Allen, Hans Glawischnig, Giovanni Figueroa, Hernan Hecht, Blair Latham, Gabriel Puentes, Pablo Aguirre, and many others. From 2012 to 2018 he was a faculty member at the Jazz and popular music program at UNICACH in Tuxtla Gutierrez Chiapas. In 2019 he relocated to Berlin where he collaborates in various projects with musicians such as Peppe Bottiglieri, Laura Robles, Miriam Leo, Leon Griese, Joe Smith, Gustavo Obligado and many others.
If you'd like to learn more about his work check out https://tomkessler.net.