Trill gets a redesign
The next generation of Trill are available as part of our Crowd Supply campaign
As part of our Gliss Crowd Supply campaign we have updated the design of all Trill sensors and are offering them for a bargin price. Don't miss your chance to get a Trill selection pack with one of each sensor for just $90 during the campaign!
Updating a classic
Gliss, our new synthesizer module for touch control, builds upon the technology used in Trill, our family of capacitive touch sensors, and in our Crowd Supply campaign we are also offering new and updated versions of our Trill sensors for purchase. The Trill sensors use capacitive touch sensing to precisely track finger movements, making high-resolution touch sensing accessible to engineers and designers who want to incorporate touch into their interactive projects.
The sensors come in various formats and sizes and each one specializes in a specific type of touch sensing. Here is a comparison table showing all the available versions.
| Sensor name | Sensing Mode | Multitouch | Dimensions |
| --- | --- | --- | --- |
| Bar | 1-axis slider | Yes | 101 x 22mm |
| Ring | 1-axis slider | Yes | 52mm (outer diameter); 28mm (inner diameter) |
| Square | 2-axis pad | No* | 69 x 69mm |
| Hex | 2-axis pad | No* | 46.5 (edge to edge); 52mm (corner to corner) |
| Craft** | 30-channel breakout | Yes | 52 x 21mm |
| Flex*** | 1-axis slider (included) | Yes | Sensor dimensions: 117 x 22mm |
* Pseudo-multi-touch is possible on these sensors but due to the matrix arrangement of pads it is not possible to reliably track the position of individual touches when there is more than one present.
** Trill Craft is a 30-channel breakout board for creating custom touch interfaces out of any conductive material.
*** Trill Flex comes with a single-axis, multi-touch sensor printed on flex PCB. Since the sensor is detachable you can create your own sensors for use with Trill Flex. See our tutorial.
Let's take a closer look at some of the updates in the new revisions of Trill.
QWIIC connectors
One of the major design changes to Trill Bar, Square, Hex, Ring, Hub and Flex is the replacement of the Grove connecter in favour the significantly smaller QWIIC connector. This makes mounting the sensor much easier due to the reduced connector size. We have also broken out the I2C connections for each of these sensors to pads which are easy to solder to, handy if you find yourself without a QWIIC cable or need to save even more vertical space.
Here are some pictures of the new revisions which we have just received back from our manufacturer and are all working perfectly. We are making some minor updates to the silkscreen and then will be ready hit go on the production run. Please note that Trill Ring will be Black in the final production run, and that all Trill sensors come with the appropriate QWIIC to header pin cable.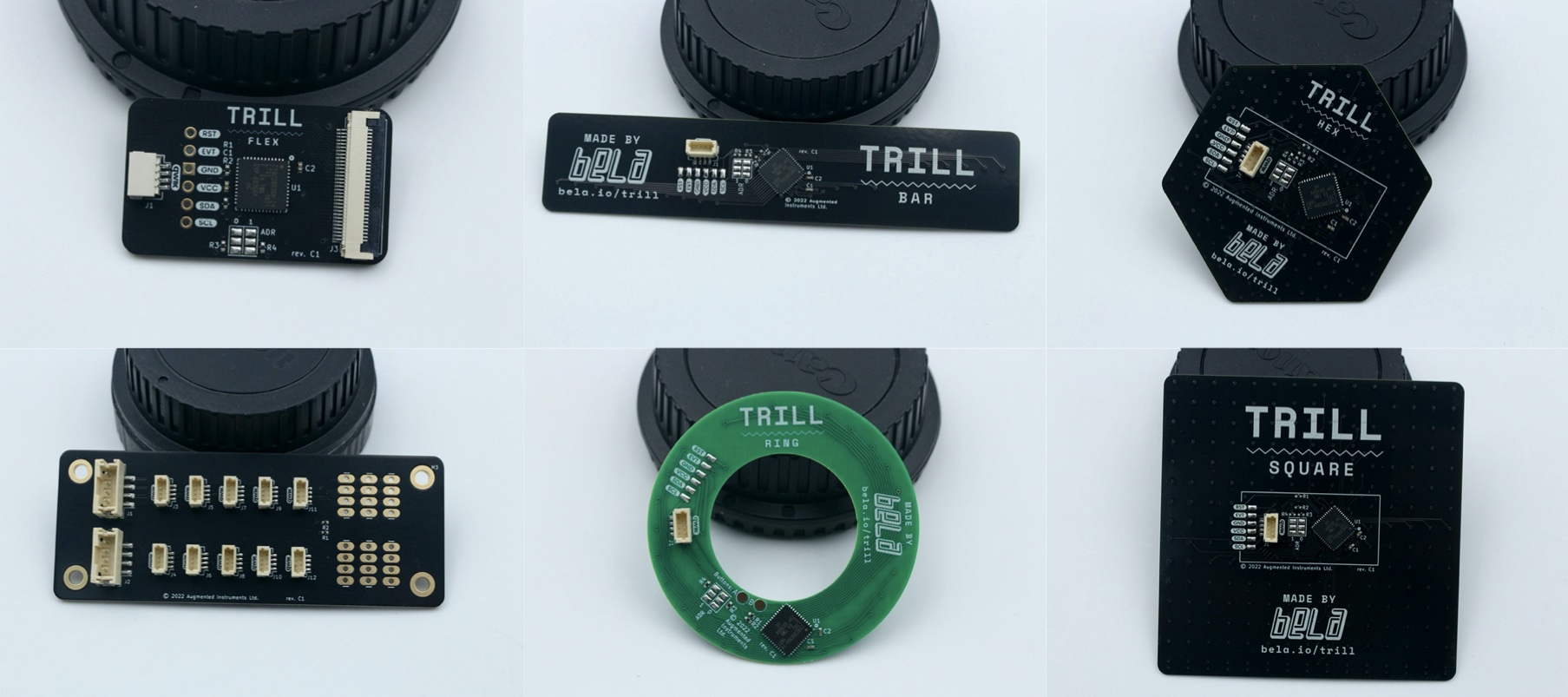 The QWIIC ecosytem of I2C devices is based on four-pin JST-SH (1mm pitch) connectors, and is becoming the gold standard for I2C in open source hardware projects. For an interesting read on why Grove connectors are a thing of the past and JST is the way forward, check out this hackaday article on connector types for I2C.
Castellated pads
Trill Craft now has castellated pads making it easier to solder to the pads and also making it possible to solder Craft directly to a secondary PCB without the need for any mounting pins.

We also love castellated pads for the ease with which you can work with conductive thread. There has been many projects created with Trill Craft and e-textiles for example this tutorial by Becky Stewart, Lecturer in the Dyson School of Design Engineering at Imperial College London.
What can you do with Trill?
Trill sensors are the perfect toolkit for building custom interfaces, bespoke controllers, and touch panels. Use them to sketch interface ideas and create new interactions in your hardware projects. Here are some of our favourite projects created with the sensors since their launch a couple of years ago.
Brassynth: digital brass instrument
Sonic circuit sculptures
Electroacoustic instruments
Making music with plants
Large scale interactive sound installations
Don't miss your chance to get a Trill selection pack with one of each sensor for just $90 during the campaign. This is the best way to try out the whole range of sensors and comes with a huge discount in comparison to the normal RRP of $127.